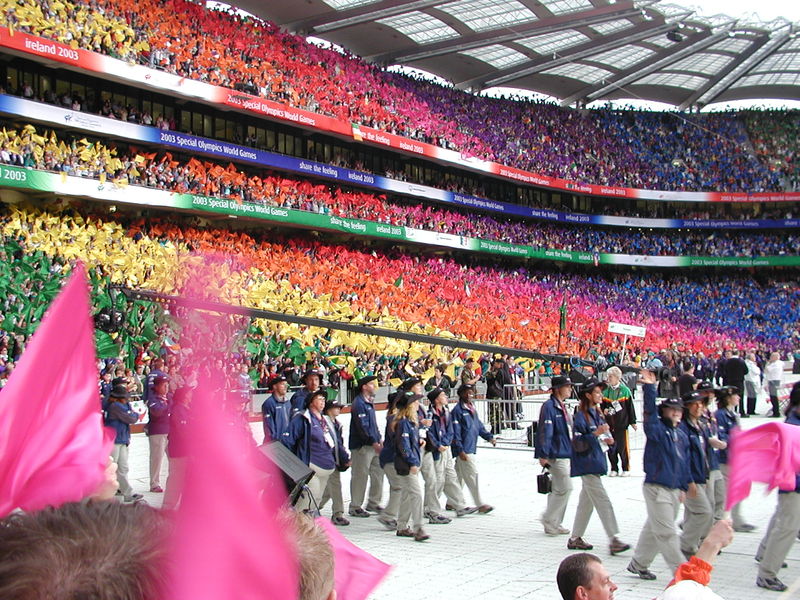 Opening Ceremonies – 2003 Special Olympics, Dublin, Ireland
Erica Denney: "Amazing experience to be a part of."
The Special Olympics is the world's largest sports organization for children and adults with intellectual disabilities, providing year-round training and competitions to more than 3.7 million athletes in more than 170 countries. Special Olympics competitions are held every day, all over the world—including local, national and regional competitions, adding up to about 50,000 events a year.

The next Special Olympics World Winter Games will be in PyeongChang, South Korea in Jan. 29-Feb. 6, 2013. The next Special Olympics World Summer Games will be in Los Angeles, Calif., USA in July 2015.

Source: Wikipedia: Special Olympics
In early June, members of the Penn State Women's Volleyball team helped out with the Special Olympics that is hosted annually by Penn State University.  Erica Denney, a RS So., was among those who volunteered their time during the weekend.  Erica posted a short write-up of her experiences at the gopsusports volleyball blog (Click Here for the complete post).  Below is a brief excerpt from her post.
As we waited with our flags by the BJC we watched as the athletes walked towards us from East Halls. As each group found the county they represented we paired up and started the parade to the baseball field for the games opening ceremonies. . . . [N]ot only was this just an amazing experience to be a part of, but it creates great long-term friends for everyone.
Hats off to Erica and to all her Penn State teammates for giving their time to help make the Special Olympics events such a great success.