Russ Rose knows volleyball, so he knows why a tough match (Penn State was down 17-13 in the second set and 19-13 in the third set), was tough:
It was a hard match, and a scrappy match.  We've got a lot of young kids, and with young kids, there are a lot of challenges with knowing if they're ready to play.  I thought the middles [6-4 Fr. Kaitlyn Hord and 6-2 Fr. Serena Gray ] did a really nice job.  A couple of the backrow players were a little nervous early and missed every serve that they had for the first game and a half.  But Temple is always a really tough opponent.  They play really hard.

When you have a roster with some international kids [like Temple does], there's certain level of confidence that they always play with.  They're always very calm about being in the front row and the back row and taking swings.  So I thought we had to battle, and we did a really nice job in game 2.  And coming back from being down 5 in the third game early, and then giving away three or four more points and having to come back is a good result.

We certainly have to play better, but I think that's what you can expect with the number of young people we have on the floor (six freshman played in the match).  I'm certainly pleased with the outcome this evening.  I think Temple's good and they're going to have, as they did last year, a great season in their conference, and they're going to cause a lot of people problems.  I'm happy we had a better result than the last time we played them [3-1 loss to the Owls in the 2nd round of the 2002 NCAA tournament].
Friday night's result, with several former players in attendance, was decidedly better for the Nittany Lions, as AVCA #6 Penn State defeated Temple University 3-0; 25-19, 25-22, 25-22 in a match that was much closer than the 3-0 result would suggest.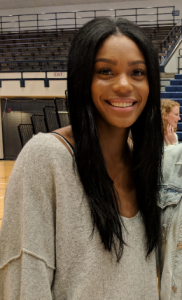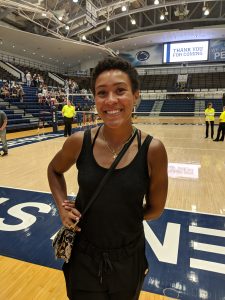 Penn State's serving played a big part in the comebacks in sets 2 and 3.  In the second set, Sr. DS Bayleigh Hoffman recorded her second ace for the Nittany Lions, and in set 3, with Penn State trailing 20-18, Kendall White served the Nittany Lions to six straight points, including a spectacular kill by the junior libero from the backrow that landed in the corner of Temples back court.
Kaitlyn Hord put down a 6-1-10 performance for .500, adding 2 blocks. Serena Gray added 5 kills with a .333 hitting % and 6 blocks.  6-3 Graduate student OH Taylor Leath and 6-2 RS Sr. OH Nia Reed each totaled 7 kills, with Leath adding 7 digs and an ace, while Reed added 3 digs and a block.  6-1 Fr. OH Allyson Cathey came in for Jonni Parker in the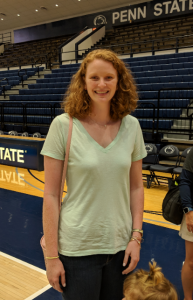 third set and provided instant energy with 3 kills on 4 swings and 1 block assist (a solo block was successfully challenged by Temple).  Kendall White led the match with 13 digs.  6-0 Sr. setter Bryanna Weiskircher finished with 27 assists, five digs, three blocks, two aces and a kill.
Post Match Quotes
How important for the development of the team were the two big comebacks in sets two and three?
Jonni Parker:

I think it's really important that we had the ability to come back, but we never should have been there in the first place.  I think our energy was a little up and down — all over the place — but I think did a really good job of "the next play, get it done, one and done."

Coach Rose:

I thought Allyson came in in the third game and had great energy and had a great block. . . . "
Were you surprised that Allyson was able to come in and shut the door and be so calm?
Coach Rose:
I think Allyson plays really hard — she's a great net player.  Clearly, one of our better blockers, so when she blocked that ball on the slide, our players are accustomed to seeing her do that.  She's not afraid to take a big swing — a good reason to get her out on the floor.  I'm trying to figure out a good lineup combination, because I really do want to play Gabby [Blossom], because I like how she plays, and she's got great energy.  And the 6-2 thing has some challenges when it works, and there are some subs that I have to worry about, with some people serving or not serving.

But I thought Serena's serve today was really good.  With Serena and Kaitlyn, you just don't know how they're going to play.  They're young and goofy.  But I thought they both came out and Serena was great at the beginning of the game.  She had a couple of great serves, and a dig.  Those aren't things that we see consistently in practice, so it was a real nice thing to see her do it with a big crowd [3,848 attendance].  I'm encouraged by that, and I'm sure she is as well.

For some of these guys it's a real work in progress.  It's not like they say "It's really hard — give me a couple of days off."  They've gotta get out there and play and they've gotta grind.  So practices are hard and this was a good match for some of those guys.  I'm happy it worked out for them.
Coach Rose on the kill by Kendall White
I thought it was a good touch by Allyson, a really good save by Serena that kept the ball alive, and for sure a dramatic play by Kendall — that's just the way she rolls.  That hit also really invigorated the crowd.  That's the benefit of playing at home, having a great crowd and the student section and the band and a football weekend.  Those are all great things.  Those are part of the equation in coaching at Penn State.  I know all of the coaches at Penn State love to play at home when they have the chance to play on a football weekend.
Allyson Cathey on her expectations when she subbed in in the third set
My biggest thought was just to bring energy and heart to the floor.  I knew subbing for Jonni — she's a great player — I was going to have to contribute in a big way.  So I was making sure I was hustling every play and just bringing energy on the court.

Jonni Parker on working with Kaitlyn Hord
I love working with all of our teammates.  Kaitlyn's especially good to work with because she lets you know what you need to do, she knows her role, she lets you know, talks about it, you figure it out and get on to the next play.  She's a great teammate as well.
Coach Rose on Kaitlyn Hord
She's a quiet kid but she has a really good awareness of what's going on around her — and it's not surprising.  Her father was a great college basketball player.
Allyson Cathey on Kaitlyn Hord

I played with her in club and I've seen her grow a lot.  [Getting more vocal.]  Going for more balls.  Seeing that growth is just great for the team.
Jonni Parker on adjustments she made during the match
Serving I definitely made a big adjustment.  I've just been trying to tweak my jump serve a little bit.  It just wasn't working tonight — it really hasn't been.  I switched to the jump floater, and it helped the team a lot.  Anything to keep from giving them points.  Offensively, I tried to mix up shots a little bit.  When I noticed that [my shot] wasn't working I just swung high, tried to use the block a little bit more, and then mix it up.
Match Stats