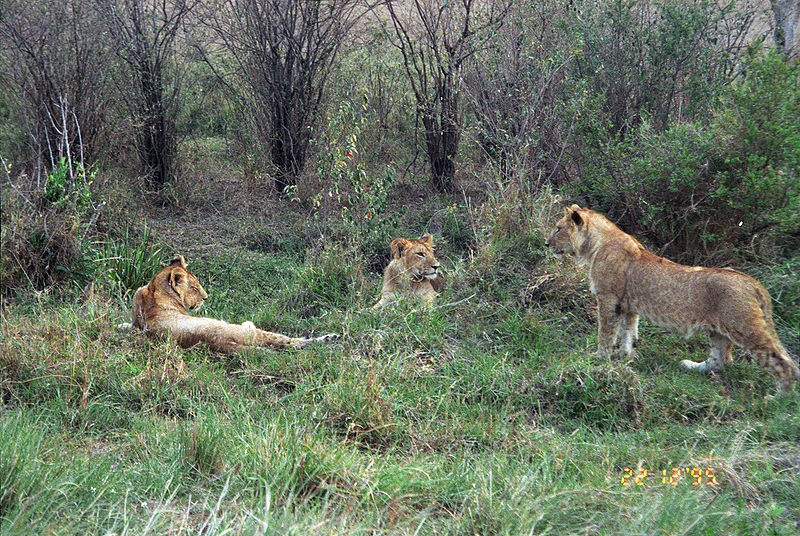 In Penn State's Halloween sweep of Ohio State (25-13, 25-16, 25-18), youth was served in more ways than one.  6-1 Fr. OH Ali Frantti led the Penn State attack with 14 kills (1 attack error for a .448 attack %), to go with five blocks (second on the team), three digs and two service aces. 6-3 Fr. MH Haleigh Washington's  8 kills ranked second on the team (2 attack errors, .429 attack %), and Washington led the team with a new career high 9 blocks (1 solo).  Not to be outdone, 5-8 Fr. DS Lainy Pierce put together a terrific service run in the first set, with eight straight points (starting with a service ace) to close out the set.  Youth will be served indeed.
It wasn't all about the freshmen.  6-2 Sr. MH Nia Grant and 6-4 RS Jr. RS/Opp Aiyana Whitney each posted 7 kills (hitting .462 and .333, respectively), and 5-11 Sr. setter Micha Hancock totaled 32 assists, guiding the Nittany Lions to a .321 team attack %.  Hancock also posted four digs and three blocks.
On defense, Penn State held the Buckeyes to a .065 attack %.  5-6 Sr. libero Dominique Gonzalez registered 15 digs (tops in the match), fellow-senior 5-6 DS Lacey Fuller totaled 7 digs, and 6-2 Jr. OH Megan Courtney added 5 digs.
For the Buckeyes, 5-6 So. libero Valeria León led the team with 10 digs in two sets (she was replaced by 6-1 Fr. OH (and, apparently, libero) Luisa Schirmer in set 3. 6-2 So. MH Taylor Sandbothe and 6-3 Sr. OH Erin Sekinger tied for the team lead with 6 kills each.  6-2 Jr. Elizabeth Campbell (a transfer from Duke) and 6-2 Jr. OH Katie Mitchell added 5 kills each.
Post Match Q&A with Club Coach
We asked Club Coach, who has coached numerous successful club and collegiate women's volleyball players, to give us his thoughts about Friday night's Penn State – Ohio State women's volleyball match.
DigNittany: Well, you called it (see Penn State vs. Ohio State: Prematch Q&A with Club Coach) – a 3-0 win by Penn State over Ohio State.  What impressed you the most about Penn State tonight?
Club Coach: Actually, I really wasn't surprised by the outcome. I think the biggest reason OSU didn't compete with Penn State is that they don't believe they can. Some programs circle a match on their schedule with a team of Penn State's caliber as a match to get up for; others circle those matches as ones they can't win.
DigNittany: Megan Courtney  struggled on offense, with 1 kill and 3 attack errors in 5 attempts.  Your thoughts?
Club Coach: There's not much you can take away from 5 attempts.  Had Courtney finished with 3 kills and no errors in 5 attempts, you certainly couldn't have called it a great match. The bigger thing to take away is that given her attempts, they weren't looking to her as a point scorer in this match.
DigNittany: If you were the coach, what would your message be to the Penn State team after this match?
Club Coach: The same message PSU gets every match: " we've got a lot of areas in which we need to get better. We need to work harder in practice and get ready for the next match"
DigNittany:  Thanks, as always.
Match Stats (Courtesy of GoPSUsports.com)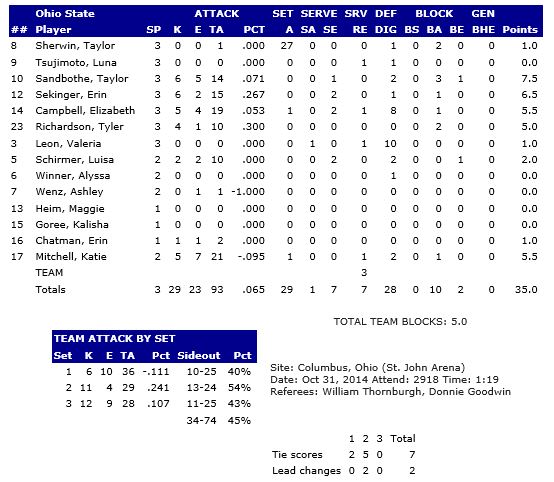 _______________________________________
Photo Credits